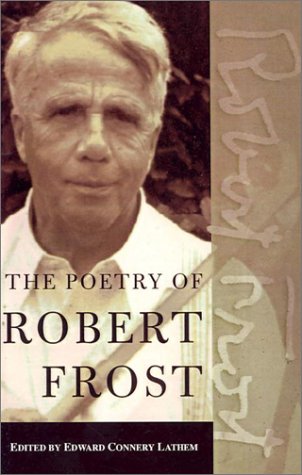 ISBN is
9780613190640 /
0613190645
Publisher:Topeka Bindery, 1979
Language:English
Prices INCLUDE standard shipping to United States
Shipping prices may be approximate. Please verify cost before checkout.
About the book:
The only comprehensive gathering of Frost's published poetry, this affordable volume offers the entire contents of his eleven books of verse, from A Boy's Will (1913) to In the Clearing (1962). Frost scholar Lathem, who was also a close friend of the four-time Pulitzer Prize-winner, scrupulously annotated the 350-plus poems in this collection, which has been the standard edition of Frost's work since it first appeared in 1969.

Search under way...
Search complete.
Click on the price to find out more about a book.
1.

Hippo Books


via



United States

Hardcover, ISBN 0613190645
Publisher: Topeka Bindery, 1979
Used - Very Good, Usually ships in 1-2 business days, Excellent condition no markings or writing. Some minor wear from reading
2.

New Chapter Recycling


via



United States

Hardcover, ISBN 0613190645
Publisher: Topeka Bindery, 1979
Used - Very Good, Usually ships in 1-2 business days, Very Good used copy: Some light wear to cover, spine and page edges. Very minimal writing or notations in margins. Text is clean and legible. Possible clean ex-library copy with their stickers and or stamps.
3.

Hippo Books


via



United States

Hardcover, ISBN 0613190645
Publisher: Topeka Bindery, 1979
Turtleback School & Library ed.. School & Library Binding. Used - Good Good . Pages may have contain writing, highlighting or notes. May be an ex library copy with library markings. Dust jacket or accessories may not be included. Turtleback School & Library ed.
4.

breaktimebooks


via



United States

Hardcover, ISBN 0613190645
Publisher: Topeka Bindery, 1979
Very Good. Very Good used book: Slight wear form usage. Spine shows some wear due to being re...
5.

Bookem2009


via



United States

Hardcover, ISBN 0613190645
Publisher: Topeka Bindery, 1979
Used - Good, Usually ships in 1-2 business days, hb, 1979, 34th printing, ex-lib with usual markings, no dj as issued, nice clean text, binding tight, SKU-A056, A small family business committed to BIG service!
6.

owl-books


via



United States

Hardcover, ISBN 0613190645
Publisher: Topeka Bindery, 1979
Good. Buy from the best: 4,000,000 items shipped to delighted customers. We have 1,000,0...
7.



United States

Hardcover, ISBN 0613190645
Publisher: Topeka Bindery, 1979

8.

alibris_movies


via



United States

Hardcover, ISBN 0613190645
Publisher: Topeka Bindery, 1979
Good. Hardcover Ex-library. Good Pages may have contain writing, highlighting or notes. ...
9.



United States

Hardcover, ISBN 0613190645
Publisher: Topeka Bindery, 1979

10.

Johnson-Medland & Sons


via



United States

Hardcover, ISBN 0613190645
Publisher: Topeka Bindery, 1979
Used - Like New, Usually ships in 1-2 business days