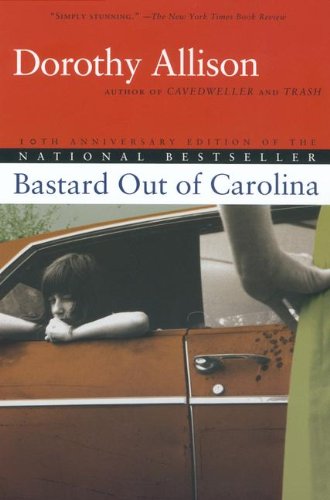 ISBN is
9780613180665 /
0613180666
Publisher:Turtleback, 1993
Language:English
Prices INCLUDE standard shipping to United States
Shipping prices may be approximate. Please verify cost before checkout.
About the book:
FOR USE IN SCHOOLS AND LIBRARIES ONLY. Tired of being labeled white trash, Ruth Anne Boatwright--a South Carolina bastard who is attached to the indomitable women in her mother's family--longs to escape from her hometown, and especially from Daddy Glen and his mean spirited jealousy.
Search under way...
Search complete.
Click on the price to find out more about a book.
1.

flightshack42


via



United States

Hardcover, ISBN 0613180666
Publisher: Turtleback, 1993
Good. Paperback - Ex-library book. Light cover wear. No marking in book. ORDERS MAILED W...
2.

Revjsch


via



United States

Hardcover, ISBN 0613180666
Publisher: Turtleback, 1993
Used - Good, Usually ships in 1-2 business days, Paperback - Ex-library book. Light cover wear. No marking in book. ORDERS MAILED WITHIN 24 HOURS, UNLESS HOLIDAY OR WEEKEND.
3.

Nearfine


via



United States

Hardcover, ISBN 0613180666
Publisher: Turtleback Books, 1993
Used - Good, Usually ships within 1 - 2 business days, A good reading copy. May contain markings or be a withdrawn library copy. Expect delivery in 20 days.
4.

Calibris


via



United States

Hardcover, ISBN 0613180666
Publisher: Turtleback Books, 1993
Used - Good, Usually ships within 1 - 2 business days, Ships from the USA. Used good condition: moderate wear, may have limited notes and/or highlighting. Please allow 10-15 business days for delivery
5.

Tml Bookstore


via



United States

Hardcover, ISBN 0613180666
Publisher: Turtleback Books, 1993
Used - Good, Expédition sous 1 à 2 jours ouvrés, Expedié Par avion depuis les USA. Prévoir l'arriveé en 7 a 15 jours. Satisfait ou remboursé.
6.

Tml Bookstore


via



United States

Hardcover, ISBN 0613180666
Publisher: San Val, 1993
Used - Good, Normalmente se envía en el plazo de 1-2 días laborable, Por favor esperar de 7 a 15 dias para la entrega. Del pedido enviado desde nuestro warehouse en el USA. Reembolso del dinero si no está satisfecho.
7.

Tml Bookstore


via



United States

Hardcover, ISBN 0613180666
Publisher: San Val, 1993
Used - Good, Generalmente spedito in 1-2 giorni lavorativi, Venditore orientato al cliente. Navi da USA. Consegna entro 7 - 14 giorni lavorativi con la posta tradizionale. La ringraziamo per il Suo ordine.
8.

Tml Bookstore


via



United States

Hardcover, ISBN 0613180666
Publisher: San Val, 2001
Used - Good, Versandfertig in 1 - 2 Werktagen, Geld zurueck Garantie. Versand aus Amerika. Erlauben sie bitte 7 bis 15 Tage fuer Lieferung. Danke
9.

Nearfine


via



United States

Hardcover, ISBN 0613180666
Publisher: Turtleback Books, 2001
Used - Good, Usually dispatched within 1-2 business days, A good reading copy. May contain markings or be a withdrawn library copy. Expect delivery in 20 days.
10.

Tousbouquins


via



United States

Hardcover, ISBN 0613180666
Publisher: Turtleback Books, 1993
Used - Good, Expédition sous 1 à 2 jours ouvrés, D'occasion-Bon: état correct, peut avoir des annotations limitées, traces d'usage ou aspect défraîchi. Expédie par avion depuis depuis les USA; prévoir une livraison entre 10 à 15 jours ouvrables. Satisfait ou remboursé