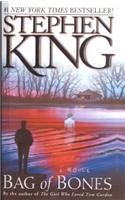 ISBN is
9780613171007 /
0613171004
Publisher:Turtleback, 1999
Language:English
Prices INCLUDE standard shipping to United States
Shipping prices may be approximate. Please verify cost before checkout.
About the book:
FOR USE IN SCHOOLS AND LIBRARIES ONLY. Plagued by vivid nightmares of the summer house he shared with his late wife, grieving widower Mike Noonan returns to his former Maine getaway, only to find a town in the grip of a ruthless millionaire and tormented by a series of ghostly visitations.
Search under way...
Search complete.
Click on the price to find out more about a book.
1.

betterworldbooks


via



United States

Hardcover, ISBN 0613171004
Publisher: Turtleback, 1999
Very Good. Former Library book. 100% Money Back Guarantee. Shipped to over one million happy...
2.

haffnersoil


via



United States

Hardcover, ISBN 0613171004
Publisher: Turtleback, 1999
Very Good. very good book great price we ship daily
3.

Quality7


via



United States

Hardcover, ISBN 0613171004
Publisher: Turtleback, 1999
Used - Very Good, Usually ships in 1-2 business days, Very Good condition
4.

ErgodeBooks


via



United States

Hardcover, ISBN 0613171004
Publisher: Turtleback, 1999
Very Good. US Edition. Buy with confidence. Excellent Customer Service & Return policy..
5.



United States

Hardcover, ISBN 0613171004
Publisher: Turtleback, 1999
used
6.



United States

Hardcover, ISBN 0613171004
Publisher: Turtleback, 1999

7.

ExtremelyReliable


via



United States

Hardcover, ISBN 0613171004
Publisher: Turtleback, 1999
Used.
8.

ExtremelyReliable


via



United States

Hardcover, ISBN 0613171004
Publisher: Turtleback, 1999
Turtleback School & Library ed.. School & Library Binding. Used - Fair. Buy with confidence. Excellent Customer Service & Return policy. Turtleback School & Library ed.
9.

Castle Rock


via



United States

Hardcover, ISBN 0613171004
Publisher: Turtleback, 1999
Used - Very Good. Book Condition: Very Good
10.

FastMedia


via



United States

Hardcover, ISBN 0613171004
Publisher: Turtleback, 1999
Excellent customer service. Prompt Customer Service. Buy with confidence. Good