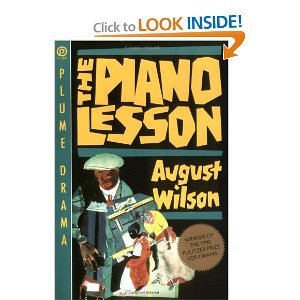 ISBN is
9780606162708 /
0606162704
Publisher:Demco Media, 1999
Edition:Hardcover
Language:English
Prices INCLUDE standard shipping to United States
Shipping prices may be approximate. Please verify cost before checkout.
About the book:
Two of August Wilson's plays are brought together here in this one volume, comprising "The Piano Lesson" and "Joe Turner's Come and Gone". "The Piano Lesson" was the winner of the 1990 Pulitzer Prize for Drama.
Search under way...
Search complete.
Click on the price to find out more about a book.
1.

Greatbuy Books Usa


via



United States

Hardcover, ISBN 0606162704
Publisher: Demco Media, 1999
Used - Acceptable, Usually ships within 1 - 2 business days, Visibly worn from excessive use but readable copy. May be an ex-library copy and may not include CD and/or Accessories.
2.

Hippo Books


via



United States

Hardcover, ISBN 0606162704
Publisher: Demco Media, 1999
Turtleback School & Library ed.. Turtleback. Used - Fair Fair . Good copy for reading, may have heavy page wear with writing textual notes highlighting or be an heavily used ex library copy with library markings, stickers or stamps. Dust jacket or accessories may not be included. Turtleback School & Library ed.
3.

Hippo Books


via



United States

Hardcover, ISBN 0606162704
Publisher: Demco Media, 1999
Used - Good, Usually ships in 1-2 business days, Gently used may contain ex-library markings, possibly has some light highlighting, textual notations, and or underlining. Text is still easily readable.
4.

owl-books


via



United States

Hardcover, ISBN 0606162704
Publisher: Demco Media, 1999
Acceptable. Buy from the best: 4,000,000 items shipped to delighted customers. We have 1,000,0...
5.

Hybrid666


via



United States

Hardcover, ISBN 0606162704
Publisher: Demco Media, 1999
Used - Like New, Usually ships in 1-2 business days
6.

The Black Cat Bookseller


via



United States

Hardcover, ISBN 0606162704
Publisher: Demco Media, 1999
Used - Very Good, Usually ships in 1-2 business days, Clean pages, former library book
7.



United States

Hardcover, ISBN 0606162704
Publisher: Demco Media, 1999

8.

Welcomebackbooks Usa


via



United States

Hardcover, ISBN 0606162704
Publisher: Demco Media, 1999
Used - Acceptable, Expédition sous 1 à 2 jours ouvrés, Book ships from USA, takes 4-14 days for delivery. Book has been read several times. Quick shipping, friendly service. Your satisfaction is guaranteed!
9.

Nearfine Books


via



United States

Hardcover, ISBN 0606162704
Publisher: Demco Media, 1999
Used - Very Good. Gently used. Expect delivery in 20 days.
10.

Owlsmart Usa


via



United States

Hardcover, ISBN 0606162704
Publisher: Demco Media, 1999
Used - Good, Usually dispatched within 1-2 business days, Good clean copy with no missing pages might be an ex library copy; may contain marginal notes and or highlighting