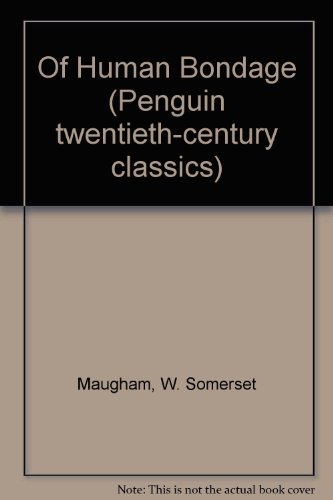 ISBN is
9780606011730 /
0606011730
Publisher:Demco Media, 1992
Edition:Hardcover
Language:English
Prices INCLUDE standard shipping to United States
Shipping prices may be approximate. Please verify cost before checkout.
About the book:
Of Human Bondage (1915) is a novel by W. Somerset Maugham. It is generally agreed to be his masterpiece and to be strongly autobiographical in nature, although Maugham stated, "This is a novel, not an autobiography, though much in it is autobiographical, more is pure invention." Maugham, who had originally planned to call his novel Beauty from Ashes, finally settled on a title taken from Spinoza's Ethics.

The book begins with the death of the mother of the nine-year-old protagonist, Philip Carey. Philip's father had already died a few months before, and the orphan Philip is sent to live with his aunt and uncle. His uncle is vicar of Blackstable, a small village in East Anglia. Philip inherits a small fortune but the money is held in custody by his uncle until he is twenty-one, giving his uncle a great deal of power over him until he reaches his maturity.
Search under way...
Search complete.
Click on the price to find out more about a book.
1.

Better World Books


via



United States

Hardcover, ISBN 0606011730
Publisher: Demco Media, 1992
Used - Acceptable. Former Library book. Shows definite wear, and perhaps considerable marking on inside.
2.

Books Squared


via



United States

Hardcover, ISBN 0606011730
Publisher: Demco Media, 1992
Used - Good. Ex-Library Book - will contain Library Markings. Only lightly used. Book has minimal wear to cover and binding. A few pages may have small creases and minimal underlining.
3.

Silver Arch Books


via



United States

Hardcover, ISBN 0606011730
Publisher: Demco Media, 1992
Used - Good. Book has a small amount of wear visible on the binding, cover, pages.
4.

greenearthbooksstore


via



United States

Softcover, ISBN 0606011730
Publisher: Demco Media, 1992
Good. Of Human Bondage (Penguin twentieth-century classics)
5.

freestatebooksstore


via



United States

Softcover, ISBN 0606011730
Publisher: Demco Media, 1992
Good. Of Human Bondage (ExLib)
6.

Hippo Books


via



United States

Hardcover, ISBN 0606011730
Publisher: Demco Media, 1992
Used - Acceptable, Usually ships in 1-2 business days, Used may contain ex-library marking, notes or highlighting, may no longer have it a dust jacket
7.

Internationalbooks


via



United States

Hardcover, ISBN 0606011730
Publisher: Demco Media, 1992
Used - Good, Usually ships in 1-2 business days, Good copy with moderate cover and page wear from being handled and read. Accessories or dust jacket may be missing. Could be an ex-library copy that will have all the stickers and or marking of the library. Some textual or margin notes possible, and or contain highlighting.
8.

Oregon Trail Book Company


via



United States

Hardcover, ISBN 0606011730
Publisher: Demco Media, 1992
Used - Acceptable, Usually ships in 1-2 business days, Former Library book. Book will have obvious wear and possible writing and highlighting inside.Get more book for your bucks!
9.

Silver Arch Books


via



United States

Hardcover, ISBN 0606011730
Publisher: Demco Media, 1992
Used - Good, Usually ships in 1-2 business days, Book has a small amount of wear visible on the binding, cover, pages. Selection as wide as the Mississippi.
10.

Better World Books


via



United States

Softcover, ISBN 0606011730
Publisher: Demco Media, 1992
Acceptable. Of Human Bondage (Penguin twentieth-century classics)