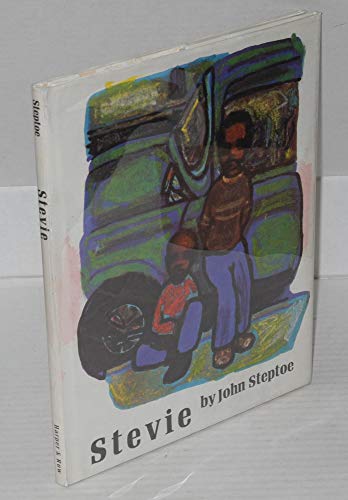 ISBN is
9780582150010 /
0582150019
Publisher:Prentice Hall Press, 1970
Edition:Hardcover
Language:English
Prices INCLUDE standard shipping to United States
Shipping prices may be approximate. Please verify cost before checkout.
About the book:
FOR USE IN SCHOOLS AND LIBRARIES ONLY. When Stevie comes to visit, Robert finds him to be quite a pest, but when the little boy moves away, Robert misses him.
Search under way...
Search complete.
Click on the price to find out more about a book.
1.

Joyceamery


via



United Kingdom

Hardcover, ISBN 0582150019
Publisher: Prentice Hall Press, 1970
Used - Good, International shipping, Usually dispatched within 1-2 business days, ex library book, sent 1st class/airmail
2.

Bolerium Books


via



United States

Hardcover, ISBN 0582150019
Publisher: Prentice Hall Press, 1970
Used - Good, Usually ships in 1-2 business days, 24p., illustrated with the color paintings of the African American artist/children's author, first edition of Steptoe's first book, dj with two light red stains in the margins of the front panel.
3.

Serendipity Unltd


via



United States

Hardcover, ISBN 0582150019
Publisher: Prentice Hall Press, 1970
Used - Good, Usually ships in 1-2 business days, In stock and ready for immediate shipment. Shipped from the US to arrive in 9-15 business days. Order inquiries handled promptly.
4.

Tousbouquins


via



United States

Hardcover, ISBN 0582150019
Publisher: Prentice Hall Press, 1970
Used - Good, Expédition sous 1 à 2 jours ouvrés, D'occasion-Bon: état correct, peut avoir des annotations limitées, traces d'usage ou aspect défraîchi. Expédie par avion depuis Londres; prévoir une livraison entre 8 à 10 jours ouvrables. Satisfait ou remboursé
5.

Thebookcommunity Es


via



United Kingdom

Hardcover, ISBN 0582150019
Publisher: Prentice Hall Press, 1970
Used - Good, Normalmente se envía en el plazo de 1-2 días laborable, Vendedor orientado hacia el cliente. Usado - buena condición: es posible que tenga desgaste, anotaciones y que el texto sea resaltado. Tiempo estimado de entrega: 10-12 dias laborables.
6.

Colibris-Usa


via



United States

Hardcover, ISBN 0582150019
Publisher: Prentice Hall Press, 1970
Used - Good, Versandfertig in 1 - 2 Werktagen, Gebraucht-Gut: exemplar in gutem Zustand , durchschnittliche Abnutzung, kann Zeichen und/oder beschränkt Textmarkierungen haben. Bei gebrauchten Büchern sind CDs, DVDs und weitere Accessories nicht vorhanden. Versand aus London, GB, Lieferzeit 8-10 Arbeitstage. Sehr guter Kundenservice