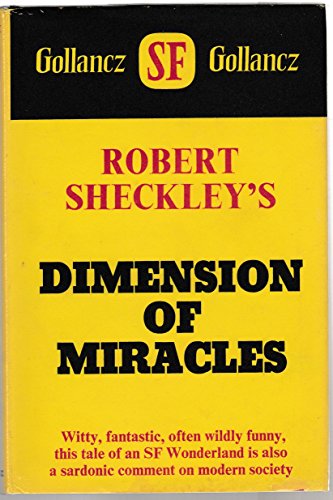 ISBN is
9780575001992 /
0575001992
Publisher:Littlehampton Book Service..., 1969
Edition:Hardcover
Language:English
Prices INCLUDE standard shipping to United States
Shipping prices may be approximate. Please verify cost before checkout.
About the book:
[This is the Audiobook Cassette Library Edition in vinyl case.]

[Read by Tom Weiner]

A mind-zapping odyssey through the universe.

Earth Hunt

It had to be somewhere, Carmody knew that much. It was waiting for him, just as he had left it. But where? He only knew he was in the center of a galaxy in a universe of galaxies. Within them lay endless varieties of the planet Earth. And there was only one way to find his Earth again: he would have to visit each one. And he would have to hurry--because his search for home had turned into a race with death.

Robert Sheckley, author of Mindswap and The People Trap, has been acclaimed as one of the most superbly imaginative writers to appear on the science fiction scene in many years.
Search under way...
Search complete.
Click on the price to find out more about a book.
1.

L. W. Currey


via



United States

Hardcover, ISBN 0575001992
Publisher: Littlehampton Book Services Ltd, 1969
Collectible - Very Good, Usually ships in 1-2 business days, 1969 London: Victor Gollancz, boards. Presentation copy with brief inscription signed Bob Sheckley to one of his book editors on the front free endpaper. Anatomy of Wonder (2004) II-989. Survey of Science Fiction Literature II, pp. 539-42.
2.

LW Currey


via



United States

Hardcover, ISBN 0575001992
Publisher: London: Victor Gollancz,, 1969
Used - Very Good. Octavo, boards. First British (and first hardcover) edition. Presentation copy with brief inscription signed "Bob Sheckley" to one of his book editors on the front free endpaper. Anatomy of Wonder (2004) II-989. Survey of Science Fiction Literature II, pp. 539-42. Small tape ghost on rear paste-down and fore-edge of rear flap and another faint ghost on rear free endpaper, a near fine copy in near fine dust jacket with some rubbing to black background ink at upper edge of

...

3.

Currey, L.W. Inc. ABAA/ILAB


via



United States

Hardcover, ISBN 0575001992
Publisher: London: Victor Gollancz,, 1969
Used. Octavo, boards. First British (and first hardcover) edition. Presentation copy with brief inscription signed "Bob Sheckley" to one of his book editors on the front free endpaper. Anatomy of Wonder (2004) II- 989. Survey of Science Fiction Literature II, pp. 539-42. Small tape ghost on rear paste-down and fore-edge of rear flap and another faint ghost on rear free endpaper, a near fine copy in near fine dust jacket with some rubbing to black background ink at upper edge of front panel.

...

4.

L. W. Currey, Inc.


via



United States

Hardcover, ISBN 0575001992
Publisher: London: Victor Gollancz, 1969
London: Victor Gollancz,. 1969. boards.. Small tape ghost on rear paste-down and fore-edge of rear flap and. another faint ghost on rear free endpaper, a near fine copy in near. fine dust jacket with some rubbing to black background ink at upper. edge of front panel. An uncommon book. (#107581). First British (and first hardcover) edition. Presentation copy with brief inscription signed "Bob Sheckley" to one of his book editors on the front free endpaper. Anatomy of Wonder (2004) II- 989.

...

5.

L. W. Currey, Inc.


via



United States

Hardcover, ISBN 0575001992
Publisher: London: Victor Gollancz, 1969
London: Victor Gollancz,. 1969. boards.. Small tape ghost on rear paste-down and fore-edge of rear flap and. another faint ghost on rear free endpaper, a near fine copy in near. fine dust jacket with some rubbing to black background ink at upper. edge of front panel. An uncommon book. (#107581). First British (and first hardcover) edition. Presentation copy with brief inscription signed "Bob Sheckley" to one of his book editors on the front free endpaper. Anatomy of Wonder (2004) II- 989.

...

6.



United States

Hardcover, ISBN 0575001992
Publisher: Littlehampton Book Services Ltd, 1969
Octavo, boards. First British (and first hardcover) edition. Presentation copy with brief inscription signed "Bob Sheckley" to one of his book editors on the front free endpaper. Anatomy of Wonder (2004) II-989. Survey of Science Fiction Literature II, pp. 539-42. Small tape ghost on rear paste-down and fore-edge of rear flap and another faint ghost on rear free endpaper, a near fine copy in near fine dust jacket with some rubbing to black background ink at upper edge of front panel. An

...

7.



United States

Hardcover, ISBN 0575001992
Publisher: Littlehampton Book Services Ltd, 1969