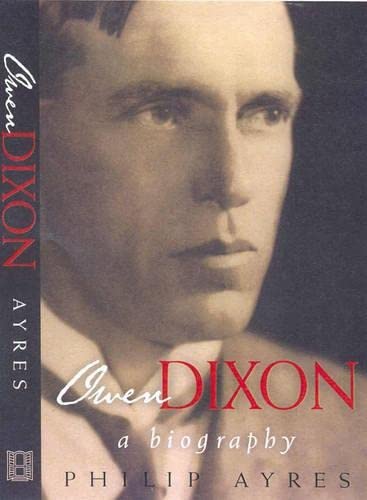 ISBN is
9780522850451 /
0522850456
Publisher:Melbourne University Publi..., 2003
Edition:Hardcover
Language:English
Prices INCLUDE standard shipping to United States
Shipping prices may be approximate. Please verify cost before checkout.
About the book:
Considered the greatest proponent of common law in the 20th century, Sir Owen Dixon stood on the high court of Australia, served as an ambassador to the United States, and mediated conflict between India and Pakistan over Kashmir. This biography presents a textured view of Dixon through use of primary sources such as Dixon's personal diaries and letters, official correspondence from archival sources, photographs, interviews from friends and family, and government reports. Attention to personal conflicts and dramatic storytelling results in a dynamic image of this renowned barrister and judge.

Search under way...
Search complete.
Click on the price to find out more about a book.
1.

Arete Books


via



Australia

Hardcover, ISBN 0522850456
Publisher: Melbourne University Publishing Miegunyah Press, Carlton, VIC, Australia, 2003
Used - Fine. Considered The Greatest Proponent Of Common Law In The 20Th Century, Sir Owen Dixon Stood On The High Court Of Australia, Served As An Ambassador To The United States, And Mediated Conflict Between India And Pakistan Over Kashmir. This Biography Presents A Textured View Of Dixon Through Use Of Primary Sources Such As Dixon's Personal Diaries And Letters, Official Correspondence From Archival Sources, Photographs, Interviews From Friends And Family, And Government Reports.

...

(JUDGES_BIOGRAPHY AUSTRALIAN HISTORY)
2.

Walton Bookstore


via



United States

Hardcover, ISBN 0522850456
Publisher: Melbourne University Press, 2003
Used - Good, Usually dispatched within 1-2 business days, 100% money back guarantee. Dispatched from the USA via First Class Airmail.