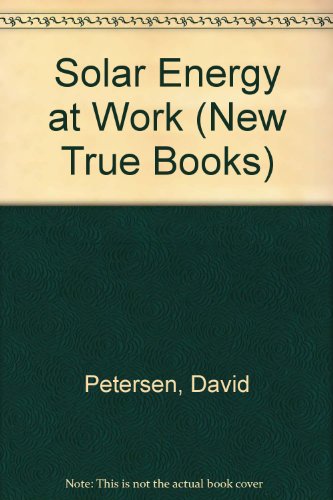 ISBN is
9780516019420 /
0516019422
Publisher:Childrens Pr, 1985
Edition:UNKNOWN
Language:English
Prices INCLUDE standard shipping to United States
Shipping prices may be approximate. Please verify cost before checkout.
About the book:
Briefly describes past and present uses of solar energy, especially for heating and electricity. Includes instructions for three simple experiments and a glossary.
Search under way...
Search complete.
Click on the price to find out more about a book.
1.

Atlanta Book Company


via



United States

Hardcover, ISBN 0516019422
Publisher: Childrens Pr, 1985
Used - Acceptable. Ex-Library Book - will contain Library Markings.
2.

Silver Arch Books


via



United States

Hardcover, ISBN 0516019422
Publisher: Childrens Pr, 1985
Used - Good. Book has a small amount of wear visible on the binding, cover, pages.
3.

Wonder Book


via



United States

Hardcover, ISBN 0516019422
Publisher: Childrens Pr, 1985
Used - Very Good. .
4.

Atlanta Book Company


via



United States

Hardcover, ISBN 0516019422
Publisher: Childrens Pr, 1985
Used - Acceptable, Usually ships in 1-2 business days, Ex-Library Book - will contain Library Markings. A tradition of southern quality and service. All books guaranteed at the Atlanta Book Company. Our mailers are 100% recyclable.
5.

Silver Arch Books


via



United States

Hardcover, ISBN 0516019422
Publisher: Childrens Pr, 1985
Used - Good, Usually ships in 1-2 business days, Book has a small amount of wear visible on the binding, cover, pages. Selection as wide as the Mississippi.
6.

atlantabookcompany


via



United States

Hardcover, ISBN 0516019422
Publisher: Childrens Pr, 1985
Good. Ex-Library Book - will contain Library Markings. A tradition of southern quality a...
7.

silver_arch_books


via



United States

Hardcover, ISBN 0516019422
Publisher: Childrens Pr, 1985
Good. Book has a small amount of wear visible on the binding, cover, pages. Selection as...
8.

wonderbooks


via



United States

Hardcover, ISBN 0516019422
Publisher: Childrens Pr, 1985
Very Good.
9.

alibris_books_07


via



United States

Softcover, ISBN 0516019422
Publisher: Childrens Pr, 1985
Very Good. Softcover Very Good Very Good condition.
10.



United States

Hardcover, ISBN 0516019422
Publisher: Childrens Pr, 1985
used