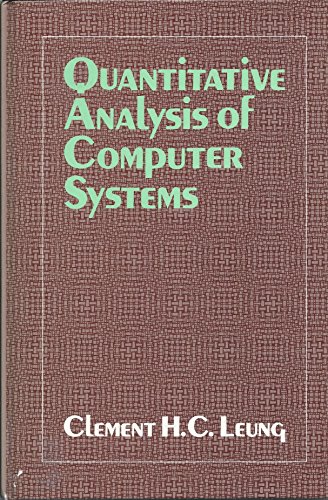 ISBN is
9780471915096 /
0471915092
Publisher:John Wiley & Sons Ltd, 1988
Edition:Hardcover
Language:English
Prices INCLUDE standard shipping to United States
Shipping prices may be approximate. Please verify cost before checkout.
About the book:
Quantitative computer performance analysis consists of discovering and ascertaining the efficiency of a computer system; it may be, for example, concerned with the estimation of the performance behaviour of a system under construction, or monitoring that of an existing one. This book presents a body of proven methods on quantitative performance analysis developed over the years, and is based on lecture material given to students of computer science at London and Reading Universities. A large proportion of computer science students feel uneasy about quantitative computer systems analysis because they either find the whole subject obscure and difficult to understand, or they find it difficult to relate the sometimes excessively theoretical treatment to concrete performance situations. Written with this in mind, this book emphasises the practical applications and usable results rather than the general techniques of analysis. It is divided broadly into three parts; the first part gives the background and motivation of quantitative performance analysis, the second part deals with the prediction and modelling of system efficiency through analytic descriptions, and the final part deals with the empirical approaches relating to performance tuning and monitoring. Although suitable as a self-contained book on computer performance analysis it can also be used as a supplementary text for other computer science courses in which some degree of quantitative analysis is required, or as a useful reference source for professional systems analysts and software engineers. At the end of every chapter key results and the concepts treated are summarised, and numerous illustrative examples are provided throughout the text.
Search under way...
Search complete.
Click on the price to find out more about a book.
1.



United States

Hardcover, ISBN 0471915092
Publisher: John Wiley & Sons Ltd, 1988
used
2.

Book Holders


via



United States

Hardcover, ISBN 0471915092
Publisher: John Wiley & Sons Ltd, 1988
Used - Very Good, Usually ships in 1-2 business days, [ No Hassle 30 Day Returns + Ships Daily ] [ Underlining/Highlighting:NONE ] [ Writing:NONE ] [ Edition: First ]
3.

BookHolders


via



United States

Hardcover, ISBN 0471915092
Publisher: John Wiley & Sons, 1988
First. Used - Good. [ No Hassle 30 Day Returns ] [ Edition: First ] Publisher: John Wiley & Sons Ltd Pub Date: 4/30/1988 Binding: Hardcover Pages: 184. First
4.

alibris_books_07


via



United States

Hardcover, ISBN 0471915092
Publisher: John Wiley & Sons Ltd, 1988
Good. Hardcover First Edition. First Good [ No Hassle 30 Day Returns ] [ Edition: First ...
5.

BookHolders


via



United States

Hardcover, ISBN 0471915092
Publisher: John Wiley & Sons Ltd, 1988
Used - Good. [ No Hassle 30 Day Returns ][ Ships Daily ] [ Underlining/Highlighting: NONE ] [ Writing: NONE ] [ Edition: First ] Publisher: John Wiley & Sons Ltd Pub Date: 4/30/1988 Binding: Hardcover Pages: 184 First edition.
6.

Zubal-Books


via



United States

Hardcover, ISBN 0471915092
Publisher: John Wiley and Sons Ltd, 1988
Used - Good. 170 pp., Hardcover, ex library, else text clean and binding tight (COMPUTER SCIENCE)
7.

Zubal-Book


via



United States

Hardcover, ISBN 0471915092
Publisher: John Wiley & Sons Ltd, 1988
Used - Good, Usually ships in 1-2 business days, 170 pp., Hardcover, ex library, else text clean and binding tight
8.

Worldofbooksusa


via



United States

Hardcover, ISBN 0471915092
Publisher: John Wiley & Sons Ltd, 1988
Used - Good, Usually ships in 1-2 business days, The book has been read but remains in clean condition. All pages are intact and the cover is intact. Some minor wear to the spine.
9.

ErgodeBooks


via



United States

Hardcover, ISBN 0471915092
Publisher: John Wiley & Sons Ltd, 1988
Good. US Edition. Buy with confidence. Excellent Customer Service & Return policy..
10.

Zubal Books


via



United States

Hardcover, ISBN 0471915092
Publisher: John Wiley and Sons Ltd, 1988
John Wiley and Sons Ltd, 1988. 170 pp., Hardcover, ex library, else text clean and binding tight