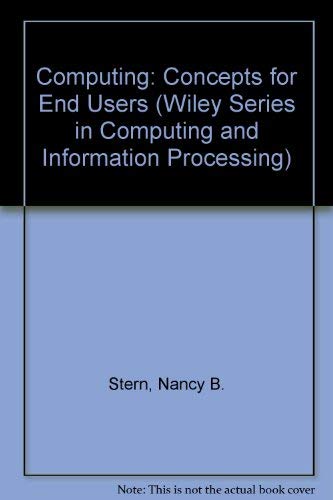 ISBN is
9780471532187 /
0471532185
Publisher:Wiley, 1990
Edition:Softcover
Language:English
Prices INCLUDE standard shipping to United States
Shipping prices may be approximate. Please verify cost before checkout.
About the book:
Covers a wide variety of topics and is designed with the end-user in mind. Unlike some texts, it focuses equally on microcomputers and mainframes. In addition, since database management systems are likely to be a priority with managers, it includes consistent and focused coverage of DBMSs throughout it as well as in selected chapters. With a proven pedagogic approach employing chapter outlines, self-tests and review questions, it provides an indispensable resource for all end-users.
Search under way...
Search complete.
Click on the price to find out more about a book.
1.

motorcitybooks


via



United States

Softcover, ISBN 0471532185
Publisher: Wiley, 1990
Good. With pride from Motor City. All books guaranteed. Best Service, Best Prices.
2.

motorcitybooksstore


via



United States

Softcover, ISBN 0471532185
Publisher: Wiley, 1990
Acceptable. Computing: Concepts for End Users (Wiley Series in Computing and Information...
3.

Motor City Books


via



United States

Softcover, ISBN 0471532185
Publisher: Wiley, 1990
Used - Acceptable, Usually ships in 1-2 business days, With pride from Motor City. All books guaranteed. Best Service, Best Prices.
4.

Anybookltduk


via



United Kingdom

Softcover, ISBN 0471532185
Publisher: Wiley, 1990
Used - Good, Usually ships in 1-2 business days, This book has soft covers.Ex-library,With usual stamps and markings,In good all round condition.
5.

Anybookltduk


via



United Kingdom

Softcover, ISBN 0471532185
Publisher: Wiley, 1990
Used - Acceptable, Usually ships in 1-2 business days, This book has soft covers.Ex-library,With usual stamps and markings,In fair condition, suitable as a study copy.
6.



United States

Softcover, ISBN 0471532185
Publisher: Wiley, 1990

7.

Anybookltduk


via



United Kingdom

Softcover, ISBN 0471532185
Publisher: Wiley, 1990
Used - Good, Usually ships within 1 - 2 business days, This book has soft covers.Ex-library,With usual stamps and markings,In good all round condition.
8.

Anybookltduk


via



United Kingdom

Softcover, ISBN 0471532185
Publisher: Wiley, 1990
Used - Acceptable, Usually ships within 1 - 2 business days, This book has soft covers.Ex-library,With usual stamps and markings,In fair condition, suitable as a study copy.
9.

Anybook Ltd.


via



United Kingdom

Softcover, ISBN 0471532185
Publisher: John Wiley & Sons, 1991
Used - Good. This book has soft covers.Ex-library,With usual stamps and markings,In good all round condition. (COMPUTING)
10.

Anybook Ltd.


via



United Kingdom

Softcover, ISBN 0471532185
Publisher: John Wiley & Sons, 1991
Used - Acceptable. This book has soft covers.Ex-library,With usual stamps and markings,In fair condition, suitable as a study copy. (COMPUTING)