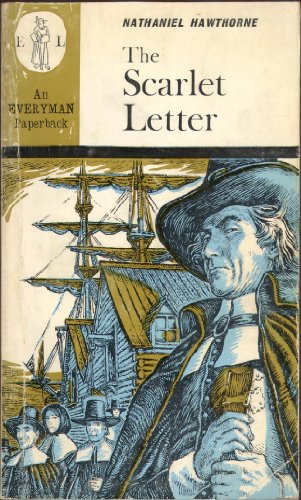 ISBN is
9780460011228 /
0460011227
Publisher:Dutton Adult, 1972
Edition:Hardcover
Language:English
Prices INCLUDE standard shipping to United States
Shipping prices may be approximate. Please verify cost before checkout.
About the book:
This historic book may have numerous typos and missing text. Purchasers can download a free scanned copy of the original book (without typos) from the publisher. Not indexed. Not illustrated. 1871 edition. Excerpt: ...scholar-like renown still lived in Oxford, was considered by his more fervent admirers as little less than a heavenly-ordained apostle, destined, should he live and labor for the ordinary term of life, to do as great deeds for the now feeble New England Church, as the early Fathers had achieved for the infancy of the Christian faith. About this period, however, the health of Mr. Dimmesdale had evidently' begun to fail. By those best acquainted with his habits, the paleness of the young minister's cheek was accounted for by his too earnest devotion to study, his scrupulous fulfilment of parochial duty, and, more than all, by the fasts and vigils of which he made a frequent practice, in order to keep the grossness of this earthly state from clogging and obscuring his spiritual lamp. Some declared, that, if Mr. Dimmesdale were really going to die, it was cause enough, that the world was not worthy to be any onger trodden by his feet. He himself, on the other hand, with characteristic humility, avowed his belief, that, if Providence should see fit to remove him, it would be because of his own unworthiness to perform its humblest mission here on earth. With all this difference of opinion as to the cause of his decline, there could be no question of the fact. His form grew emaciated; his voice, though still rich and sweet, had a certain melancholy prophecy of decay in it; he was often observed, on any slight alarm or other sudden accident, to put his hand over his heart, with first a flush and then a paleness, indicative of pain. Such was the young clergyman's condition, and so imminent the prospect that his dawning light would be extinguished, all untimely, when Koger Chillingworth made his advent to the town. His first entry on the scene, few people...
Search under way...
Search complete.
Click on the price to find out more about a book.
1.

stoneyp94


via



United States

Hardcover, ISBN 0460011227
Publisher: Dutton Adult, 1972
Good. Pocket Books ed. Pages are great; cover has some age wear.
2.

Better World Books Ltd


via



United Kingdom

Hardcover, ISBN 0460011227
Publisher: Dutton Adult, Bronxville, N.Y., 1972
Used - Acceptable. Ships from the UK. Former Library book. Shows definite wear, and perhaps considerable marking on inside.
3.

AwesomeBooks


via



United Kingdom

Hardcover, ISBN 0460011227
Publisher: Everyman Ltd 01/05/1968, 1968
Used. - GREAT BOOK IN GOOD OR BETTER CONDITION, NORMALLY SENT SAME DAY FROM WAREHOUSE.
4.

AwesomeBooksUSA


via



United States

Hardcover, ISBN 0460011227
Publisher: Dutton Adult, 1972
Hardcover. Used - Good Used Good. Book in good or better condition. Dispatched same day from US or UK warehouse.
5.

ErgodeBooks


via



United States

Hardcover, ISBN 0460011227
Publisher: Dutton Adult, 1972
Good. US Edition. Buy with confidence. Excellent Customer Service & Return policy..
6.

Awesomebooksusa


via



United States

Hardcover, ISBN 0460011227
Publisher: Dutton Adult, 1972
Used - Good, Usually ships in 1-2 business days, This book is in good or better condition. It has no tears to the pages and no pages will be missing from the book. The spine of the book is still in great condition and the front cover is generally unmarked. It has signs of previous use but overall is in really nice, tight condition. Shipping is normally same day from our warehouse. We offer a money back guarantee if you are not satisfied.
7.

never2manybooks11


via



United States

Hardcover, ISBN 0460011227
Publisher: Dutton Adult, 1972
Good. (1977; Dent/ Everyman paperback) Cover with edge/ reading wear. No spine creases....
8.

Never Too Many Books


via



United States

Hardcover, ISBN 0460011227
Publisher: Dutton Adult, 1972
Used - Good. 0460011227 (1977; Dent/ Everyman paperback) Cover with edge/ reading wear. No spine creases. Toning to page edges. Pages unmarked. Binding straight. Cover art may vary **Tracking on all US orders**Most orders shipped within 24 hours**Insurance to all orders over $50**
9.

Never Too Many Books


via



United States

Hardcover, ISBN 0460011227
Publisher: Dutton Adult, 1972
Dutton Adult. Hardcover. 0460011227 (1977; Dent/ Everyman paperback) Cover with edge/ reading wear. No spine creases. Toning to page edges. Pages unmarked. Binding straight. Cover art may vary *Tracking on all US orders. Most orders shipped within 24 hours. International customers will be reimbursed a portion of unused shipping charges.* . Good.
10.

Never Too Many Books Of Salem


via



United States

Hardcover, ISBN 0460011227
Publisher: Dutton Adult, 1972
Used - Good, Usually ships in 1-2 business days, (1977; Dent/ Everyman paperback) Cover with edge/ reading wear. No spine creases. Toning to page edges. Pages unmarked. Binding straight. Cover art may vary