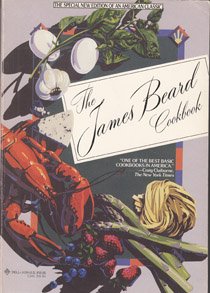 ISBN is
9780440541882 /
0440541883
Publisher:Dell, 1987
Edition:Softcover
Language:English
Prices INCLUDE standard shipping to United States
Shipping prices may be approximate. Please verify cost before checkout.
About the book:
The recipes in this revision of the classic work by a man who revolutionized the way we think about food incorporate use of food processors and other technological advances and reflect the evolving eating habits and preferences of Americans today. Winner of the R.T. French Tastemaster Hall of Fame award, this cookbook has been a favorite with beginning and advanced cooks for more than 35 years.
Search under way...
Search complete.
Click on the price to find out more about a book.
1.

Better World Books


via



United States

Softcover, ISBN 0440541883
Publisher: Dell, 1987
Used - Good. Shows some signs of wear, and may have some markings on the inside.
2.

Atlanta Book Company


via



United States

Softcover, ISBN 0440541883
Publisher: Dell, 1987
Used - Acceptable.
3.

Free State Books


via



United States

Softcover, ISBN 0440541883
Publisher: Dell, 1987
Used - Acceptable.
4.

Sierra Nevada Books


via



United States

Softcover, ISBN 0440541883
Publisher: Dell, 1987
Used - Good. Book has some visible wear on the binding, cover, pages.
5.

Silver Arch Books


via



United States

Softcover, ISBN 0440541883
Publisher: Dell, 1987
Used - Good. Dust Cover Missing. Book has a small amount of wear visible on the binding, cover, pages.
6.

Yankee Clipper Books


via



United States

Softcover, ISBN 0440541883
Publisher: Dell, 1987
Used - Good. Book shows a small amount of wear to cover and binding. Some pages show signs of use.
7.

R&R Books


via



United States

Softcover, ISBN 0440541883
Publisher: Dell, 1987
Used. Covers show general wear. Pages aged toned with tight binding.
8.



United States

Softcover, ISBN 0440541883
Publisher: Dell, 1987
used
9.

Better World Books


via



United States

Softcover, ISBN 0440541883
Publisher: Dell, 1987
Dell. Used - Good. Shows some signs of wear, and may have some markings on the inside.
10.

Better World Books


via



United States

Softcover, ISBN 0440541883
Publisher: Dell, 1987
Good. James Beard Cookbook