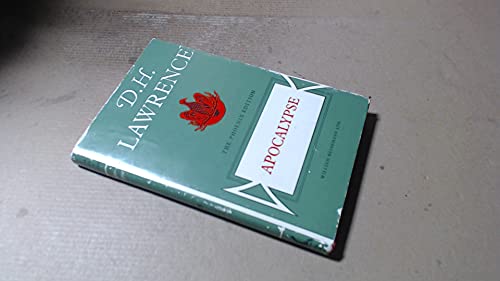 ISBN is
9780434407385 /
0434407380
Publisher:William Heinemann Ltd, 1972
Edition:Hardcover
Language:English
Prices INCLUDE standard shipping to United States
Shipping prices may be approximate. Please verify cost before checkout.
About the book:
Apocalypse is D. H. Lawrence's last book, written during the winter of 1929-30 when he was dying. It is a radical criticism of our civilisation and a statement of Lawrence's unwavering belief in man's power to create 'a new heaven and a new earth'. Ranging over the entire system of his thought on God and man, on religion, art, psychology and politics, this book is Lawrence's final attempt to convey his vision of man and the universe. Apocalypse was published after Lawrence's death, and in a highly inaccurate text. This edition is the first to reproduce accurately Lawrence's final corrected text on the basis of a thorough examination of the surviving manuscript and typescript. In the introduction the editor has discussed the writing of Apocalypse and its place in Lawrence's works, its publication and reception, and the significance of Lawrence's other writings on the Book of Revelation.
Search under way...
Search complete.
Click on the price to find out more about a book.
1.

Hemingway


via



United Kingdom

Hardcover, ISBN 0434407380
Publisher: William Heinemann Ltd, 1972
Phoenix ed.. Hardcover. Used - Very Good. Dustwrapper is in Very Good condition. Ex-Library with usual stamps, marks etc. May be missing front endpaper. In Very Good general condition, with signs of slight use. Phoenix ed.
2.

Db54621


via



United Kingdom

Hardcover, ISBN 0434407380
Publisher: William Heinemann Ltd, 1972
Collectible - Acceptable, Usually dispatched within 1-2 business days
3.

Dorstone Books


via



United Kingdom

Hardcover, ISBN 0434407380
Publisher: William Heinemann Ltd, 1972
Collectible - Very Good, International shipping, Usually ships in 1-2 business days, 1960 EDITION with dust jacket some nicks to top of spine jacket - rare and collectable - will send out 1 st class post
4.

The Guru Bookshop


via



United Kingdom

Hardcover, ISBN 0434407380
Publisher: William Heinemann Ltd, 1972
Collectible - Very Good, Usually dispatched within 1-2 business days, 1960 EDITION with dust jacket some nicks to top of spine jacket - rare and collectable - will send out 1 st class post
5.

Garymorgan40


via



United Kingdom

Hardcover, ISBN 0434407380
Publisher: William Heinemann Ltd, 1972
Collectible - Like New, Usually dispatched within 1-2 business days, Near Fine 1972 first thus in Phoenix hardback. Fine book, slight edgerub to clipped dustjacket. Sent immediately.
6.

Call Me Ishmael


via



United States

Hardcover, ISBN 0434407380
Publisher: William Heinemann Ltd, 1972
Used - Very Good, Usually ships in 24 hours, Scarce. Very good, in near fine jacket. Light scraping at the board edges, probably from shelving. Get the product you want, in the condition you expect. No ex-library items. No markings, unless indicated. We shrink wrap most items and ship in new corrugated boxes.. Shipped from Amazon. FREE Two-Day Shipping with Amazon Prime. Eligible for FREE Super Saver Shipping.
7.

Call Me Ishmael


via



United States

Hardcover, ISBN 0434407380
Publisher: William Heinemann Ltd, 1972
Phoenix ed.. Used - Very Good. Scarce. Very good, in near fine jacket. Light scraping at the board edges, probably from shelving. Get the product you want, in the condition you expect. No ex-library items. No markings, unless indicated. We shrink wrap most items and ship in new corrugated boxes. Phoenix ed.
8.

Call Me Ishmael


via



United States

Hardcover, ISBN 0434407380
Publisher: William Heinemann Ltd, 1972
Very Good. Scarce. Very good, in near fine jacket. Light scraping at the board edges, probably from shelving. Get the product you want, in the condition you expect. No ex-library items. No markings, unless indicated. We shrink wrap most items and ship in new corrugated boxes.
9.

Call Me Ishmael


via



United States

Hardcover, ISBN 0434407380
Publisher: William Heinemann Ltd, 1972
Used. Scarce. Very good, in near fine jacket. Light scraping at the board edges, probably from shelving. Get the product you want, in the condition you expect. No ex-library items. No markings, unless indicated. We shrink wrap most items and ship in new corrugated boxes.
10.



United States

Hardcover, ISBN 0434407380
Publisher: William Heinemann Ltd, 1972