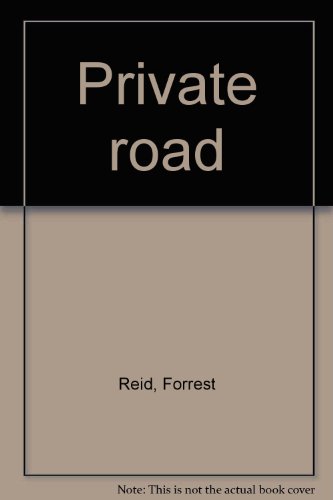 ISBN is
9780404145873 /
0404145876
Publisher:AMS Press, 1978
Language:English
Prices INCLUDE standard shipping to United States
Shipping prices may be approximate. Please verify cost before checkout.
About the book:
In this, the companion volume to his earlier autobiographical Apostate (1926), Forrest Reid continues his 'chronicle of a prolonged personal adventure'. "Private Road" (first published in 1940) offers Reid's descriptions of his early writing efforts; a youthful correspondence with Henry James that began with promise yet ended disappointingly ('the Master was not pleased...'); his Cambridge encounters with such luminaries as Ronald Firbank and W.B. Yeats; the production and reception of his first published works; and his valued friendships with E.M. Forster and Walter de la Mare. The closing stages of the book reflect Reid's unique sense of the spiritual: a compelling meditation on our 'second life' in a place Reid calls 'dreamland', wherein a 'shadowy agent' conjures an atmosphere that can hold powerful inspirational properties for the artist. "Faber Finds" is devoted to restoring to readers a wealth of lost/neglected classics and authors of distinction. The range embraces fiction, non-fiction, the arts and children's books.
Search under way...
Search complete.
Click on the price to find out more about a book.
1.

Prairie Wind


via



United States

Hardcover, ISBN 0404145876
Publisher: Faber and Faber, 1978
Hard Cover. Used - Good Good No Jacket. 8vo-over 7¾"-9¾" tall 0-404-14587-6 Ex-Library Library removed cardholder page. First AMS edition.
2.

Prairie Wind Books Div. PLF Inc.


via



United States

Hardcover, ISBN 0404145876
Publisher: Faber and Faber, 1978
Faber and Faber, 1978 Hard Cover. 3. Good/No Jacket null 8vo-over 7?"-9?" tall 0-404-14587-6 Ex-Library Library removed cardholder page. First AMS edition.
3.



United States

Hardcover, ISBN 0404145876
Publisher: AMS Press, 1978
Good/No Jacket 8vo-over 7¾"-9¾" tall 0-404-14587-6 Ex-Library Library removed cardholder page. First AMS edition.
4.



United States

Hardcover, ISBN 0404145876
Publisher: AMS Press, 1978