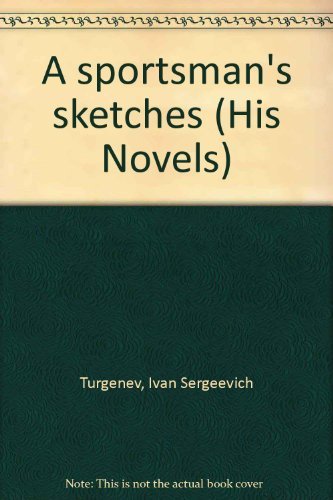 ISBN is
9780404019082 /
0404019080
Publisher:AMS Press, 1970
Edition:Hardcover
Language:English
Prices INCLUDE standard shipping to United States
Shipping prices may be approximate. Please verify cost before checkout.
About the book:
A Sportsman's Sketches was an 1852 collection of short stories by Ivan Turgenev. It was the first major writing that gained him recognition. He wrote this collection of short stories based on his own observations while hunting at his mothers estate at Spasskoye, where he learned of the abuse of the peasants and the injustices of the Russian system that constrained them. The frequent abuse of Turgenev by his mother certainly had an effect on this work. He was about to give up writing when the first story, "Khor and Khalinich," was well received. This work is part of the Russian realist tradition in that the narrator is usually an uncommitted observer of the people he meets. The work as a whole actually led to Turgenevs house arrest (part of the reason, the other being his epitaph to Nikolai Gogol) at Spasskoye. It was also partially responsible for the abolishment of serfdom in Russia.
Search under way...
Search complete.
Click on the price to find out more about a book.
1.

Fm Books


via



United States

Hardcover, ISBN 0404019080
Publisher: AMS Press, 1970
Used - Like New, Usually ships in 1-2 business days, Volume I; New, never read book, but without dust wrapper, if it ever had one; red cloth boards and pages in perfect condition; AMS Press, NY; (D10, 1')
2.

Calibris


via



United States

Hardcover, ISBN 0404019080
Publisher: AMS Press, 1970
Used - Very Good, Usually ships within 1 - 2 business days, Ships from the USA. Please allow 10-15 business days for delivery. Excellent customer service!
3.

Colibris-Usa


via



United States

Hardcover, ISBN 0404019080
Publisher: AMS Press, 1970
Used - Very Good, Versandfertig in 1 - 2 Werktagen, Versand aus den USA, Lieferzeit 10-15 Arbeitstage. Unser Kundendienst steht Ihnen jederzeit gerne zur Verfügung.
4.

Tml Bookstore


via



United States

Hardcover, ISBN 0404019080
Publisher: AMS Press, 1970
Used - Good, Expédition sous 1 à 2 jours ouvrés, Expedié Par avion depuis les USA. Prévoir l'arriveé en 7 a 15 jours. Satisfait ou remboursé.
5.

Tml Bookstore


via



United States

Hardcover, ISBN 0404019080
Publisher: AMS Press, 1970
Used - Good, Normalmente se envía en el plazo de 1-2 días laborable, Por favor esperar de 7 a 15 dias para la entrega. Del pedido enviado desde nuestro warehouse en el USA. Reembolso del dinero si no está satisfecho.
6.

Tml Bookstore


via



United States

Hardcover, ISBN 0404019080
Publisher: AMS Press, 1970
Used - Good, Generalmente spedito in 1-2 giorni lavorativi, Venditore orientato al cliente. Navi da USA. Consegna entro 7 - 14 giorni lavorativi con la posta tradizionale. La ringraziamo per il Suo ordine.
7.

Tml Bookstore


via



United States

Hardcover, ISBN 0404019080
Publisher: AMS Press, 1970
Used - Good, Versandfertig in 1 - 2 Werktagen, Geld zurueck Garantie. Versand aus Amerika. Erlauben sie bitte 7 bis 15 Tage fuer Lieferung. Danke