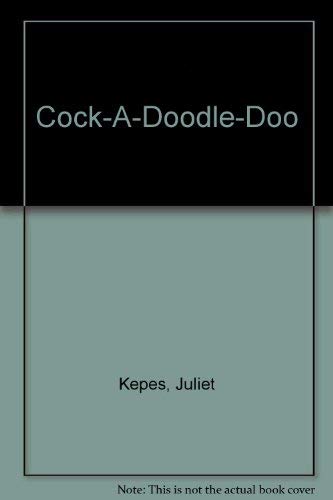 ISBN is
9780394838670 /
039483867X
Prices INCLUDE standard shipping to United States
Shipping prices may be approximate. Please verify cost before checkout.
About the book:
Protective of a young chick she plans to eat later, a tigress changes her plans for dinner when the young rooster becomes her protector.
Search under way...
Search complete.
Click on the price to find out more about a book.
1.

Bestandfastestbooks


via



United States

Softcover, ISBN 039483867X
Publisher: Knopf Books for Young Readers, 1978
Collectible - Good, Usually ships in 1-2 business days, Good exlibrary, Library Binding edition, Unmarked, Solid, Cover has some wear, A good copy overall. We take great pride in accurately describing the condition of our books, ship within 48 hours and offer a 100% money back guarantee.
2.

houseofpaperoddities


via



United States

Hardcover, ISBN 039483867X
Publisher: Alfred A. Knopf Books for Young Readers, 1978
Used - Good. Good exlibrary, Library Binding edition, Unmarked, Solid, Cover has some wear, A good copy overall. We take great pride in accurately describing the condition of our books, ship within 48 hours and offer a 100% money back guarantee.
3.

alibris_movies


via



United States

Softcover, ISBN 039483867X
Publisher: Knopf Books for Young Readers, 1978
Good. Ex-library. Good exlibrary, Library Binding edition, Unmarked, Solid, Cover has so...
4.

free_state_books


via



United States

Softcover, ISBN 039483867X
Publisher: Knopf Books for Young Readers, 1978
Good. Book shows minor use. Cover and Binding have minimal wear, and the pages have only...
5.



United States

Softcover, ISBN 039483867X
Publisher: Knopf Books for Young Readers, 1978

6.

Free State Books


via



United States

Softcover, ISBN 039483867X
Publisher: Knopf Books for Young Readers, 1978
Used - Good, Usually ships within 1 - 2 business days, Ships from the USA. Please allow 14-21 business days for delivery. Book shows minor use. Cover and Binding have minimal wear, and the pages have only minimal creases. Free State Books. Never settle for less.
7.



United States

Softcover, ISBN 039483867X
Publisher: Knopf Books for Young Readers, 1978
Good exlibrary, Library Binding edition, Unmarked, Solid, Cover has some wear, A good copy overall. We take great pride in accurately describing the condition of our books, ship within 48 hours and offer a 100% money back guarantee.
8.

ErgodeBooks


via



United States

Softcover, ISBN 039483867X
Publisher: Knopf Books for Young Readers, 1978
Good. US Edition. Buy with confidence. Excellent Customer Service & Return policy..
9.

FastMedia


via



United States

Softcover, ISBN 039483867X
Publisher: Knopf Books for Young Readers, 1978
Buy with confidence. Excellent Customer Service & Return policy. Good
10.



United States

Softcover, ISBN 039483867X
Publisher: Knopf Books for Young Readers, 1978
used