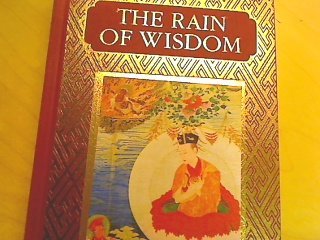 ISBN is
9780394514123 /
0394514122
Publisher:Shambhala, 1981
Edition:Hardcover
Language:English
Prices INCLUDE standard shipping to United States
Shipping prices may be approximate. Please verify cost before checkout.
About the book:
The tradition of composing spontaneous songs that express spiritual understanding has existed in Tibet for centuries. Over one hundred of these profound songs are found in this collection of the work of some of the greatest teachers of the Kagyu Lineage of Tibetan Buddhism. With their vivid imagery and deep insight, the songs in this book communicate in a very direct way profound and timeless insight. The Rain of Wisdom is read aloud in its entirety by Tibetan Buddhists every year on the New Year. It has been reprinted in cloth in response to demand by Buddhist practitioners.
Search under way...
Search complete.
Compare book prices from over 100,000 booksellers. Click on the price to find out more about a book.