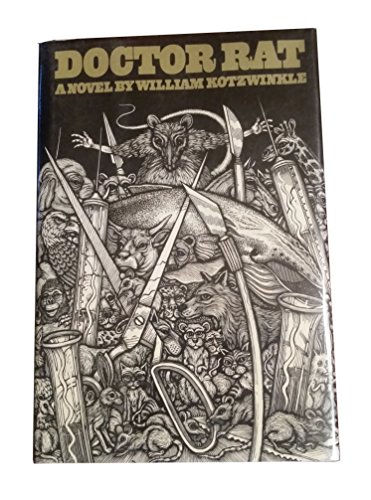 ISBN is
9780394400808 /
0394400801
Publisher:Alfred A. Knopf, 1976
Edition:Hardcover
Language:English
Prices INCLUDE standard shipping to United States
Shipping prices may be approximate. Please verify cost before checkout.
About the book:
As the grant-supported, knowledgeable survivor of the most refined scientific experiments, Doctor Rat, Ph.D., dedicates himself to defending mankind against the worldwide rebellions, uprisings, and insurgencies of his fellow animals.
Search under way...
Search complete.
Click on the price to find out more about a book.
1.

olinyerhed


via



United States

Softcover, ISBN 0394400801
Publisher: Alfred A. Knopf, 1976
Acceptable. Doctor Rat / William Kotzwinkle (Knopf, 1976, 0394400801)
2.



United States

Hardcover, ISBN 0394400801
Publisher: Alfred A. Knopf, 1976
used
3.

Betterworldbooks


via



United States

Hardcover, ISBN 0394400801
Publisher: Alfred a Knopf, 1976
Used - Good, Usually ships within 1 - 2 business days, Shipped from the US -- Expect delivery in 1-2 weeks. Shows some signs of wear, and may have some markings on the inside. 100% Money Back Guarantee. Shipped to over one million happy customers. Your purchase benefits world literacy!
4.

freestatebooksstore


via



United States

Softcover, ISBN 0394400801
Publisher: Alfred A. Knopf, 1976
Acceptable. Doctor Rat (ExLib)
5.

freestatebooksstore


via



United States

Softcover, ISBN 0394400801
Publisher: Alfred A. Knopf, 1976
Acceptable. Doctor Rat (NoDust)
6.

atlantabookcompany


via



United States

Hardcover, ISBN 0394400801
Publisher: Alfred A. Knopf, 1976
Good. Ex-Library Book - will contain Library Markings. A tradition of southern quality a...
7.

Atlantabookcompany


via



United States

Hardcover, ISBN 0394400801
Publisher: Alfred a Knopf, 1976
Used - Acceptable, Usually ships within 1 - 2 business days, Ships from the USA. Please allow 2 to 3 weeks for delivery. Ex-Library Book - will contain Library Markings. A tradition of quality and service.
8.

Free State Books


via



United States

Hardcover, ISBN 0394400801
Publisher: Alfred a Knopf, 1976
Used - Acceptable, Usually ships within 1 - 2 business days, Ships from the USA. Please allow 14-21 business days for delivery. Dust Cover Missing. Free State Books. Never settle for less.
9.

wolfsmediaworld


via



United States

Hardcover, ISBN 0394400801
Publisher: Alfred A. Knopf, 1976
Ex Library Hardcover with Laminated dust jacket.
10.



United States

Hardcover, ISBN 0394400801
Publisher: Alfred A. Knopf, 1976