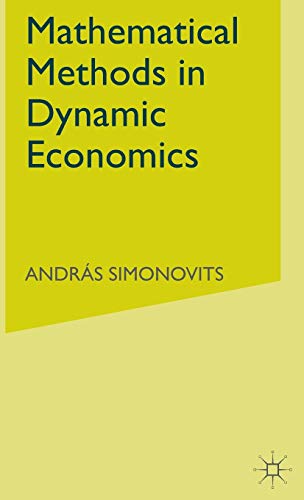 ISBN is
9780333778180 /
0333778189
Publisher:Palgrave Macmillan, 2000
Edition:Hardcover
Language:English
Prices INCLUDE standard shipping to United States
Shipping prices may be approximate. Please verify cost before checkout.
About the book:
Recently dynamics have begun to play a central role in economics. This book tries to survey the whole field in a unique way. It contains a concise description of important mathematical methods of dynamics and suitable economic models. It covers discrete as well as continuous-time systems, linear and nonlinear models. The book goes beyond the elementary parts of the field by including the treatment of the theory of chaos and dynamic optimization. The book often contains sketches rather than full proofs of difficult topics. Mixing traditional and modern materials, the study covers dynamics with and without optimization. The author compares naive and rational expectations and demonstrates the strengths and weaknesses of both approaches. In addition to standard models of growth and cycle, the book also contains original studies on control of multisector economy and expectations-driven multicohort economy. The study contains numerous examples, problems (with solutions) and figures.
Search under way...
Search complete.
Click on the price to find out more about a book.