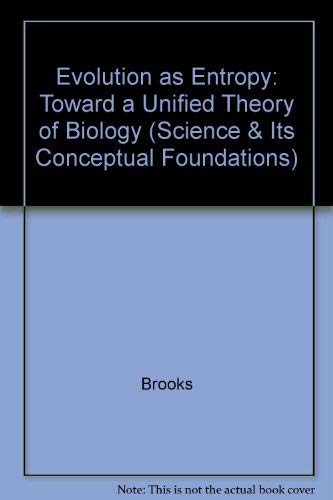 ISBN is
9780226075730 /
0226075737
Publisher:Univ of Chicago Pr (Tx), 1988
Edition:Hardcover
Language:English
Prices INCLUDE standard shipping to United States
Shipping prices may be approximate. Please verify cost before checkout.
About the book:
"By combining recent advances in the physical sciences with some of the novel ideas, techniques, and data of modern biology, this book attempts to achieve a new and different kind of evolutionary synthesis. I found it to be challenging, fascinating, infuriating, and provocative, but certainly not dull."James H, Brown, University of New Mexico

"This book is unquestionably mandatory reading not only for every living biologist but for generations of biologists to come."Jack P. Hailman, Animal Behaviour, review of the first edition

"An important contribution to modern evolutionary thinking. It fortifies the place of Evolutionary Theory among the other well-established natural laws."R.Gessink, TAXON

Search under way...
Search complete.
Click on the price to find out more about a book.
1.

Better World Books


via



United States

Hardcover, ISBN 0226075737
Publisher: Univ of Chicago Pr (Tx), 1988
Used - Good. Former Library book. Shows some signs of wear, and may have some markings on the inside.
2.

Better World Books


via



United States

Hardcover, ISBN 0226075737
Publisher: Univ of Chicago Pr (Tx), 1988
Good. US Edition. Former Library book. Shows some signs of wear, and may have some markings on the inside. 100% Money Back Guarantee. Shipped to over one million happy customers. Your purchase benefits world literacy!.
3.

Better World Books


via



United States

Softcover, ISBN 0226075737
Publisher: Univ of Chicago Pr (Tx), 1988
Good. Evolution As Entropy: Toward a Unified Theory of Biology (Science and Its Concep
4.

betterworldbooks


via



United States

Hardcover, ISBN 0226075737
Publisher: Univ of Chicago Pr (Tx), 1988
Good. Former Library book. 100% Money Back Guarantee. Shipped to over one million happy ...
5.

Better World Books


via



United States

Hardcover, ISBN 0226075737
Publisher: University of Chicago Press, 1988
2nd ed.. Used - Good. Former Library book. Shows some signs of wear, and may have some markings on the inside. Shipped to over one million happy customers. Your purchase benefits world literacy! 2nd ed.
6.

Full Paper Jacket


via



United States

Hardcover, ISBN 0226075737
Publisher: Univ of Chicago Pr (Tx), 1988
Used - Good, Usually ships in 1-2 business days, Former Library book. Has signs of use but good clean copy.100% Money Back Guarantee. Shipped to over one million happy customers. Your purchase benefits world literacy!
7.



United States

Hardcover, ISBN 0226075737
Publisher: Univ of Chicago Pr (Tx), 1988
used
8.

Better World Books


via



United States

Hardcover, ISBN 0226075737
Publisher: Univ of Chicago Pr (Tx), 1988
Univ of Chicago Pr (Tx). Used - Good. Former Library book. Shows some signs of wear, and may have some markings on the inside. 100% Money Back Guarantee. Shipped to over one million happy customers. Your purchase benefits world literacy!
9.

Better World Books


via



United States

Hardcover, ISBN 0226075737
Publisher: Univ of Chicago Pr (Tx), 1988
Univ of Chicago Pr (Tx). Used - Good. Former Library book. Shows some signs of wear, and may have some markings on the inside. 100% Money Back Guarantee. Shipped to over one million happy customers. Your purchase benefits world literacy!
10.

Covertwocover


via



United States

Hardcover, ISBN 0226075737
Publisher: Univ of Chicago Pr (Tx), 1988
Used - Very Good, Usually ships in 1-2 business days, Ex-Library Copy (with usual markings and stickers); No Jacket, Moderate shelf wear or edge wear on covers and spine; 100% Money back guarantee 4