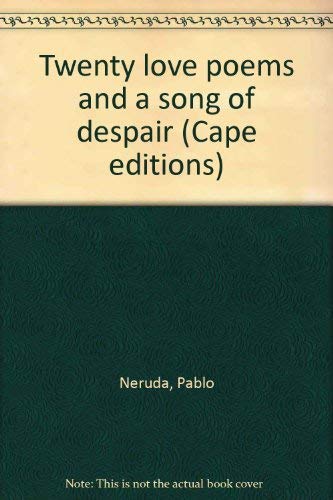 ISBN is
9780224617253 /
0224617257
Publisher:Cape, 1969
Edition:Softcover
Language:English
Prices INCLUDE standard shipping to United States
Shipping prices may be approximate. Please verify cost before checkout.
About the book:
Unequalled in their grace, earthiness, and expression of sensual longing, the love poems of Pablo Neruda are perhaps the most lyrically written and widely read of this century. A perennial best-seller since it was published in Chile nearly 70?years ago, Twenty Love Poems and a Song of Despair is now offered for the first time in a beautiful gift edition. A superb translation by W.S. Merwin and striking, richly colored illustrations bring the poems of this classic volume vividly?to life, making it an eloquent, evocative gift for lovers and poetry lovers everywhere.
Search under way...
Search complete.
Click on the price to find out more about a book.
1.

Better World Books


via



United States

Softcover, ISBN 0224617257
Publisher: Cape, 1969
Used - Good. Former Library book. Shows some signs of wear, and may have some markings on the inside.
2.

Betterworldbooks


via



United States

Softcover, ISBN 0224617257
Publisher: Cape, 1969
Used - Good, Usually ships in 1-2 business days, Shows some signs of wear, and may have some markings on the inside. 100% Money Back Guarantee. Shipped to over one million happy customers. Your purchase benefits world literacy!
3.

Betterworldbooks


via



United States

Softcover, ISBN 0224617257
Publisher: Cape, 1969
Used - Good, Usually ships in 1-2 business days, Former Library book. Shows some signs of wear, and may have some markings on the inside. 100% Money Back Guarantee. Shipped to over one million happy customers. Your purchase benefits world literacy!
4.

Betterworldbooks


via



United States

Softcover, ISBN 0224617257
Publisher: Cape, 1969
Used - Good, Usually ships within 1 - 2 business days, Shipped from the US -- Expect delivery in 1-2 weeks. Former Library book. Shows some signs of wear, and may have some markings on the inside. 100% Money Back Guarantee. Shipped to over one million happy customers. Your purchase benefits world literacy!
5.

Wigtown Book Shop


via



United Kingdom

Softcover, ISBN 0224617257
Publisher: Cape, 1969
Used - Good, International shipping, Usually dispatched within 24 hours, HARDBACK in shocking pink D/J . A clean , tight copy , no ink marks , A personal and efficient service from a traditional bookshop located in Wigtown, South West Scotland. Thank you for your order!. Shipped from Amazon.
6.

Gray Fox Canada


via



France

Softcover, ISBN 0224617257
Publisher: Cape, 1969
Used - Good, Usually ships within 1 - 2 business days, Multilingual customer service.Satisfaction guaranteed ! Books in French. America : 16 days ; Europe : 13 days ; Asia : 20 days.
7.

Booked Again


via



United States

Softcover, ISBN 0224617257
Publisher: Cape, 1969
Used - Good. Good condition, some are ex-library and can have markings.
8.

Better World Books


via



United States

Softcover, ISBN 0224617257
Publisher: Cape, 1969
Good. US Edition. Former Library book. Shows some signs of wear, and may have some markings on the inside. 100% Money Back Guarantee. Shipped to over one million happy customers. Your purchase benefits world literacy!.
9.

5Boros Books


via



United States

Hardcover, ISBN 0224617257
Publisher: Cape, 1969
Used - Good. Some may have high-lighting or writings, some are ex-library.
10.



United States

Softcover, ISBN 0224617257
Publisher: Cape, 1969
used