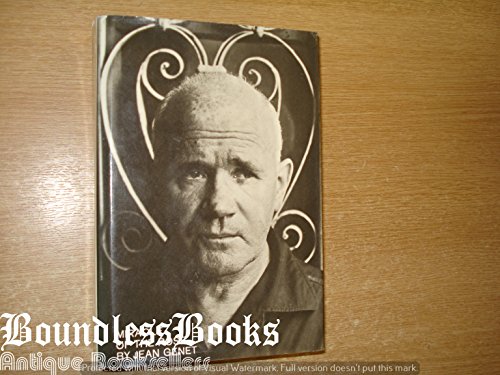 ISBN is
9780218512724 /
0218512724
Publisher:Blond, 1965
Edition:Hardcover
Language:English
Prices INCLUDE standard shipping to United States
Shipping prices may be approximate. Please verify cost before checkout.
About the book:
Miracle of the Rose was Jean Genet's second novel, composed in 1943 while the author was incarcerated in La Sante prison, and eventually published in 1946. The work itself is informed by Genet's memories of confinement, both in 'adult' prisons and the Mettray reformatory where he spent three years from the age of 15. However, as in his earlier Our Lady of the Flowers, Genet's imagination transfigures lived experience and makes for a vivid fictional world governed by the poetic force of his fantasies. The central figure in the novel is Harcamone, whom Genet first encountered at Mettray and who resurfaces, unsurprisingly, in the adult prison of Fontevrault - now a murderer, and, in the world-turned-upside-down of Genet's vision, a quasi-divine figure. Genet further explores the path of his own sexuality through accounts of his physical relations with fellow inmates, including the burglar Bulkean and his ex-Mettray lover, Divers.
Search under way...
Search complete.
Click on the price to find out more about a book.
1.

Sunrise Books Ltd


via



United Kingdom

Hardcover, ISBN 0218512724
Publisher: Blond, 1965
Blond, 1965. Hardcover. Used; Acceptable. Hardcover; English language; Acceptable jacket; 8vo - over 7.75" - 9.75" tall; good condition. Your book will be securely packed and promptly dispatched from our UK warehouse. All international orders are sent Royal Mail airmail.
2.

sunrisebookshop


via



United Kingdom

Hardcover, ISBN 0218512724
Publisher: Blond, 1965
Acceptable. Miracle of the Rose - Jean Genet - Blond - Acceptable - Hardcover
3.

sunrisebookshop


via



United Kingdom

Hardcover, ISBN 0218512724
Publisher: Blond, 1965
Acceptable. Miracle of the Rose - Jean Genet - Blond - Acceptable - Hardcover
4.

sunrisebookshop


via



United Kingdom

Hardcover, ISBN 0218512724
Publisher: Blond, 1965
Acceptable. Miracle of the Rose - Jean Genet - Blond - Acceptable - Hardcover
5.

Better World Books Ltd


via



United Kingdom

Hardcover, ISBN 0218512724
Publisher: Blond, 1965
Used - Good. Ships from the UK. Former Library book. Shows some signs of wear, and may have some markings on the inside.
6.

sunrisebookshop


via



United Kingdom

Hardcover, ISBN 0218512724
Publisher: Blond, 1965
Acceptable. Miracle of the Rose - Jean Genet - Blond - Acceptable - Hardcover
7.

Sunrise Books Uk Ltd


via



United Kingdom

Hardcover, ISBN 0218512724
Publisher: Blond, 1965
Used - Acceptable, Usually ships in 1-2 business days, We aim to deliver to the USA within 10 days! (subject to customs delays). Cover image and publication date may vary. Hardcover; English language; Acceptable jacket; 8vo - over 7.75" - 9.75" tall; good condition. We are an experienced and professional UK bookseller who have been sending books worldwide for over 5 years.
8.

Pendleburys


via



United Kingdom

Hardcover, ISBN 0218512724
Publisher: Blond, 1965
Used - Good, Usually ships in 1-2 business days, hardback, 1st British edition translated from the French, light discolouration to fore-edge o/w good in a very good dust wrapper that is browned to verso edges, 291pp
9.

Sunrise Books Ltd


via



United Kingdom

Hardcover, ISBN 0218512724
Publisher: Blond, 1965
Used. Hardcover; English language; Acceptable jacket; 8vo - over 7.75" - 9.75" tall; good condition. Your book will be securely packed and promptly dispatched from our UK warehouse. For buyers outside the UK we now offer significantly lower rates on our airmail shipping.
10.

sunrisebookshop


via



United Kingdom

Hardcover, ISBN 0218512724
Publisher: Blond, 1965
Acceptable. Miracle of the Rose - Jean Genet - Blond - Acceptable - Hardcover