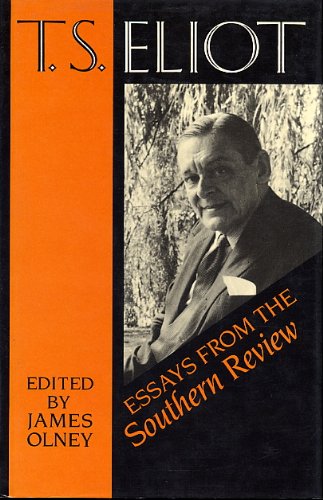 ISBN is
9780198185758 /
0198185758
Publisher:Oxford University Press, 1988
Edition:Hardcover
Language:English
Prices INCLUDE standard shipping to United States
Shipping prices may be approximate. Please verify cost before checkout.
About the book:
In 1985, twenty years after T.S. Eliot's death, a special number of The Southern Review was published that was devoted entirely to his life and work. This book, with some additions and excisions, make that number available to a wider audience in the year that marks the 100th anniversary of Eliot's birth. The collection combines memoirs and critical pieces by thirty-seven contributors, including a previously unpublished lecture by Eliot himself, to present a collective reevaluation of his life and work. The contributors include A. Walton Litz, Cleanth Brooks, Ronald Bush, Christopher Fry, Sir Alec Guinness, Harry Levin, M.L. Rosenthal, Stanley Sultan, and many others.
Search under way...
Search complete.
Click on the price to find out more about a book.
1.

New Chapter Recycling


via



United States

Hardcover, ISBN 0198185758
Publisher: Oxford University Press, 1988
Used - Very Good, Usually ships in 1-2 business days, Very Good used copy: Some light wear to cover, spine and page edges. Very minimal writing or notations in margins. Text is clean and legible. Possible clean ex-library copy with their stickers and or stamps.
2.

Owlsbooks


via



United States

Hardcover, ISBN 0198185758
Publisher: Oxford University Press, 1988
Used - Good, Usually ships in 1-2 business days, Good clean copy with no missing pages might be an ex library copy; may contain some notes and or highlighting
3.

Owls Books


via



United States

Hardcover, ISBN 0198185758
Publisher: Oxford University Press, 1988
Hardcover. Used - Good Good . May be an ex-library copy with library markings or stickers, may have some highlighting and or textual notes. May no longer have dust jacket or accessories if applicable.
4.

Yellowhammerbooks


via



United States

Hardcover, ISBN 0198185758
Publisher: Oxford University Press, 1988
Used - Good, Usually ships in 1-2 business days, Some wear on book from reading, some spine creases, wear on binding and pages, we guarantee all purchases
5.

Phatpocket Bookstore


via



United States

Hardcover, ISBN 0198185758
Publisher: Oxford University Press, 1988
Used - Good, Usually ships in 1-2 business days, Ships same or next working day from UK. Delivered in 1 - 3 weeks (or select two-day/expedited shipping). Your purchase helps support the African Children's Educational Trust (A-CET). Ex-library, so some stamps and wear, but in good overall condition. 100% money back guarantee. We are a world class secondhand bookstore based in Hertfordshire, United Kingdom and specialize in high quality textbooks across an enormous variety of subjects. We aim

...

6.

breaktimebooks


via



United States

Hardcover, ISBN 0198185758
Publisher: Oxford University Press, 1988
Very Good. Read once or twice. We ship daily via USPS. Buy with the best!
7.

The Phatpocket Bookstore


via



United Kingdom

Hardcover, ISBN 0198185758
Publisher: Oxford University Press, 1999
Used - Good, Usually ships within 1 - 2 business days, Ships from UK - will arrive in 1 - 3 weeks. Ships from UK in 48 hours or less (usually same day). Your purchase helps support the African Children's Educational Trust (A-CET). Ex-library, so some stamps and wear, but in good overall condition. 100% money back guarantee. We are a world class secondhand bookstore based in Hertfordshire, United Kingdom and specialize in high quality textbooks across an enormous variety of subjects. We aim

...

8.

Greatbuy Books Usa


via



United States

Hardcover, ISBN 0198185758
Publisher: Oxford University Press, 1999
Used - Good, Usually ships within 1 - 2 business days, Moderate wear on cover and edges. Minimal highlighting and/or other markings can be present. May be ex-library copy and may not include CD, Accessories and/or Dust Cover. Good readable copy.
9.

alibris_books_09


via



United States

Hardcover, ISBN 0198185758
Publisher: Oxford University Press, 1988
Good. Hardcover Ex-library. Good May be an ex-library copy with library markings or stic...
10.



United States

Hardcover, ISBN 0198185758
Publisher: Oxford University Press, 1988