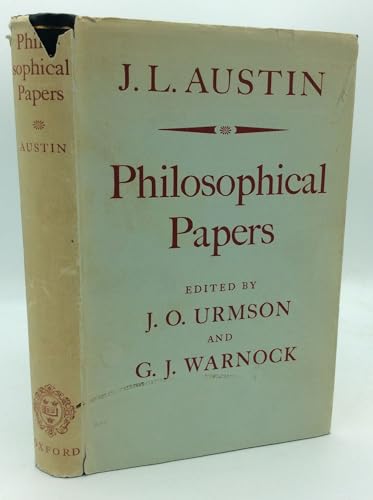 ISBN is
9780195032031 /
0195032039
Publisher:Oxford University Press, 1983
Edition:Hardcover
Language:English
Prices INCLUDE standard shipping to United States
Shipping prices may be approximate. Please verify cost before checkout.
About the book:
This second collection of essays by Lewis focuses on causation, probability, dependence and decision, and several other related topics. The thirteen papers are a major contribution to philosophy by one of the most influential and imaginative of contemporary American philosophers.
Search under way...
Search complete.
Click on the price to find out more about a book.
1.

Richard Axe Books


via



United Kingdom

Hardcover, ISBN 0195032039
Publisher: Oxford University Press Inc, 1983
Used - Like New, Usually dispatched within 1-2 business days, From an academic library of 10,000 books recently purchased. Condition is generally exceptionally good and most of the modern works are as new. All books returnable for any reason within 14 days. Books securely wrapped and posted first class daily. Professional booksellers since 1981. (r246)
2.

Harbinger Books


via



United States

Hardcover, ISBN 0195032039
Publisher: Oxford University Press, 1983
New York: Oxford University Press, 1983. (14)285pp. Index. Light pencil underlining on a few pages near the end. . First Printing. Hard Cover. Very Good/Very Good Dust Jacket. 12mo - over 6 3/4 - 7 3/4 " Tall. PHILOSOPHY. First edition.
3.

SellBackYourBook


via



United States

Hardcover, ISBN 0195032039
Publisher: Oxford University Press, 1983
Good. US Edition. Item in good condition. Textbooks may not include supplemental items i.e. CDs, access codes etc....
4.

glenthebookseller


via



United States

Hardcover, ISBN 0195032039
Publisher: Oxford University Press, 1983
Used - Good. 0195032039 Item in good condition. Textbooks may not include supplemental items i.e. CDs, access codes etc.
5.



United States

Hardcover, ISBN 0195032039
Publisher: Oxford University Press, 1983
used
6.

Glenthebookseller


via



United States

Hardcover, ISBN 0195032039
Publisher: Oxford University Press, 1983
Used - Good, Usually ships in 1-2 business days, Item in good condition. Textbooks may not include supplemental items i.e. CDs, access codes etc... All Day Low Prices!
7.

glenthebookseller


via



United States

Hardcover, ISBN 0195032039
Publisher: Oxford University Press, 1983
Good. Item in good condition. Textbooks may not include supplemental items i.e. CDs, acc...
8.

Artis Books & Antiques


via



United States

Hardcover, ISBN 0195032039
Publisher: Oxford University Press, New York, 1983
Used - Very Good. (14)285pp. Index. Light pencil underlining on a few pages near the end. Size: 12mo - over 6¾ - 7¾" Tall; includes dustjacket
9.

Nearfine


via



United Kingdom

Hardcover, ISBN 0195032039
Publisher: Oxford University Press, 1983
Used - Like New, International shipping, Usually ships in 1-2 business days, Looks unread! Expect delivery in 2-3 weeks.
10.

Artis Books


via



United States

Hardcover, ISBN 0195032039
Publisher: Oxford University Press, New York, 1983
First Printing. Hard Cover. Used - Good Very Good Very Good Dust Jacket. PHILOSOPHY. 12mo-over 6¾-7¾" Tall. (14)285pp. Index. Light pencil underlining on a few pages near the end. First Printing