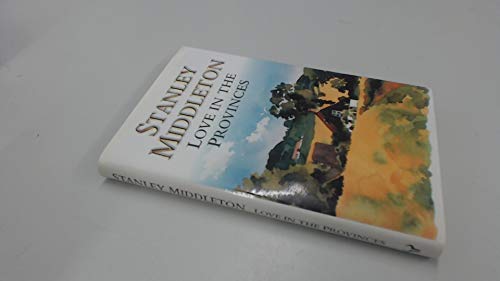 ISBN is
9780091794781 /
0091794781
Publisher:Random House UK, 2002
Edition:Hardcover
Language:English
Prices INCLUDE standard shipping to United States
Shipping prices may be approximate. Please verify cost before checkout.
About the book:
When Tim Hughes joins his precocious schoolfriend Julian in a holiday job sorting out the library of an elderly neighbour, Harald Meades, he doesn't comprehend the emotions, both adult and adolescent, with which he is about to tangle. Harald's mathematician son and his wife are planning to part, and the arrival of their daughter Harriet soon transforms the thoughts and feelings of both boys and puts each to a different testwhile the life of their parents and of Meades himself are also changed radically. In his fortieth book, a tragi-comedy of three generations, Stanley Middleton triumphantly proves that he has lost none of the sureness of feeling for his characters, the sense of place or the psychological insights which are so much a part of his earlier novels.
Search under way...
Search complete.
Click on the price to find out more about a book.
1.

Brit-Books-Usa


via



United States

Hardcover, ISBN 0091794781
Publisher: Random House UK, 2002
Used - Good, Usually ships in 1-2 business days, CD - The reference CD accompanying this book is missing. Simply Brit: We have dispatched from our UK warehouse books of good condition to over 1 million satisfied customers worldwide. We are committed to providing you with a reliable and efficient service at all times.
2.

Pre-Loved Books


via



United Kingdom

Hardcover, ISBN 0091794781
Publisher: Random House UK, 2002
Used - Good, Usually ships in 1-2 business days, We are committed to providing each customer with the highest standard of customer service. All books are picked, packed and dispatched from the United Kingdom.
3.

Brit Books


via



United Kingdom

Hardcover, ISBN 0091794781
Publisher: Hutchinson, 2002
Used. CD - The reference CD accompanying this book is missing.
4.

Pre-Loved Books


via



United Kingdom

Hardcover, ISBN 0091794781
Publisher: Hutchinson, 2002
Used - Good, Usually dispatched within 1-2 business days, We are committed to providing each customer with the highest standard of customer service. All books are picked, packed and dispatched from the United Kingdom.
5.

Brit-Books


via



United Kingdom

Hardcover, ISBN 0091794781
Publisher: Hutchinson, 2002
Used - Good, International shipping, Usually dispatched within 1-2 business days, CD - The reference CD accompanying this book is missing. Simply Brit: We have dispatched from our UK warehouse books of good condition to over 1 million satisfied customers worldwide. We are committed to providing you with a reliable and efficient service at all times.
6.

Brit Books


via



United Kingdom

Hardcover, ISBN 0091794781
Publisher: Hutchinson, 2002
Hardcover. Used - Good. CD-The reference CD accompanying this book is missing. ***SIMPLY BRIT*** We have dispatched from our UK warehouse books of good condition to over 1 million satisfied customers worldwide. We are committed to providing you with a reliable and efficient service at all times.
7.

PreLoved ltd


via



United Kingdom

Softcover, ISBN 0091794781
Publisher: Random House UK, 2002
Used - Good.
8.

Paragone Books


via



United Kingdom

Hardcover, ISBN 0091794781
Publisher: Hutchinson, 2002
Collectible - Very Good, Usually dispatched within 1-2 business days, 1st edition 1st impression Hutchinson 2002 in bright clean unclipped dust jacket with a little light edge wear. Now protected in clear removable sleeve. Binding tight and square. No inscriptions.
9.

forest-books


via



United States

Hardcover, ISBN 0091794781
Publisher: Random House UK, 2002
Good. US Edition. UK BASED SELLER SHIPS DAILY , Ex-library copy, .
10.

Millhousebooks Ltd





United Kingdom

Hardcover, ISBN 0091794781
Publisher: Random House UK, 2002
Hardcover Good 0091794781 UK BASED SELLER SHIPS DAILY ,Ex-library copy,