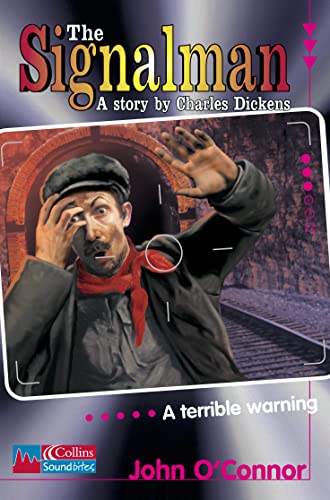 ISBN is
9780007116744 /
0007116748
Publisher:Collins Educational, 2001
Edition:Softcover
Language:English
Prices INCLUDE standard shipping to United States
Shipping prices may be approximate. Please verify cost before checkout.
About the book:
Soundbites is a graded series of readers aimed at reluctant readers in Key Stage 3, with accompanying teaching resources. - Soundbites has three progressive stages of readers. The Signalman is a stage 3 title with a reading age of 8-9 and around 40 words per page. Six different level 1 books are available in a pack (0003230856). - The book includes a retelling of Dickens' classic short story, as well as basic English concepts. - A variety of text types are used. - Specialised, difficult or technical vocabulary is explained on the page, plus a one-page glossary at the end. -The topics covered address the KS3 English curriculum. - Photocopiable teaching resources, containing a range of literacy-boosting activities, are available in the Soundbites Bumper Pack (ISBN 0 00 323086 4) or individually (0007116926).
Search under way...
Search complete.
Compare book prices from over 100,000 booksellers. Click on the price to find out more about a book.
1.

Lib-Books


via



Spain

Softcover, ISBN 0007116748
Publisher: Collins Educational, 2001
Used - Good, Normalmente se envía en el plazo de 1-2 días laborable
2.

Eclipse Libros


via



France

Softcover, ISBN 0007116748
Publisher: Collins Educational, 2001
Used - Good, Expédition sous 1 à 2 jours ouvrés
3.

Eclipse Libros


via



Italy

Softcover, ISBN 0007116748
Publisher: Collins Educational, 2001
Used - Good, Generalmente spedito in 1-2 giorni lavorativi
4.

Eclipse Libros


via



Germany

Softcover, ISBN 0007116748
Publisher: Collins Educational, 2001
Used - Good, Versandfertig in 1 - 2 Werktagen
5.

Eclipse Libros


via



United Kingdom

Softcover, ISBN 0007116748
Publisher: Collins Educational, 2001
Used - Good, Usually dispatched within 1-2 business days