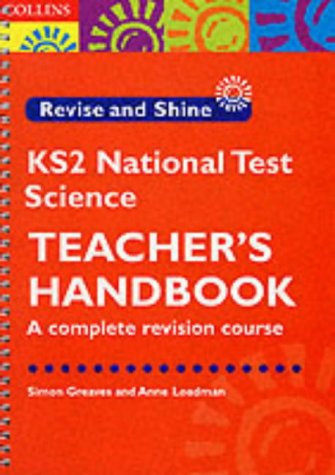 ISBN is
9780007100576 /
0007100574
Publisher:Collins Educational, 2000
Edition:Softcover
Language:English
Prices INCLUDE standard shipping to United States
Shipping prices may be approximate. Please verify cost before checkout.
About the book:
Revise and Shine Science is an exciting new revision series for use in school in the final year of KS2. It provides stimulating and effective preparation for the National Tests. It is ideal for use throughout the year, for Science revision leading up to the tests in May and also for booster classes in the summer. KS2 Teacher's Handbook The Teacher's Handbook has been written to accompany the KS2 Science Children's Book. For every lesson in the Children's Book it provides a detailed teaching plan and background information to help teachers prepare their pupils thoroughly. It includes: * a clear summary of learning objectives * a list of key points to be covered * key vocabulary and resources * homework suggestions to help reinforce the work done in class Assessment tests revise major sections of work at regular intervals to ensure pupils get all the practice they need to enable them to sit the National Test with real confidence. KS2 Children's Book Every lesson in the Children's Book has been carefully written to include all the key information required so that children will be able to answer Test questions to the best of their ability.
Search under way...
Search complete.
Click on the price to find out more about a book.
1.

Wobcanada


via



Canada

Softcover, ISBN 0007100574
Publisher: Collins Educational, 2000
Used - Very Good, Usually ships within 1 - 2 business days, The book has been read, but is in excellent condition. Pages are intact and not marred by notes or highlighting. The spine remains undamaged.
2.

World of Books Ltd


via



United Kingdom

Softcover, ISBN 0007100574
Publisher: Collins Educational, 2000
Paperback. Very Good.
3.

World Of Books Ltd


via



United Kingdom

Softcover, ISBN 0007100574
Publisher: Collins, 2000
Used - Very Good, International shipping, Usually dispatched within 1-2 business days, Expedited shipping available on this book. The book has been read, but is in excellent condition. Pages are intact and not marred by notes or highlighting. The spine remains undamaged.
4.

Worldofbooks-Es


via



United Kingdom

Softcover, ISBN 0007100574
Publisher: Collins, 2000
Used - Very Good, Normalmente se envía en el plazo de 1-2 días laborable, The book has been read, but is in excellent condition. Pages are intact and not marred by notes or highlighting. The spine remains undamaged.
5.

Worldofbooksit


via



United Kingdom

Softcover, ISBN 0007100574
Publisher: Collins, 2000
Used - Very Good, Generalmente spedito in 1-2 giorni lavorativi, The book has been read, but is in excellent condition. Pages are intact and not marred by notes or highlighting. The spine remains undamaged.
6.

Worldofbooksfr


via



United Kingdom

Softcover, ISBN 0007100574
Publisher: Collins Educational, 2000
Used - Very Good, Expédition sous 1 à 2 jours ouvrés, The book has been read, but is in excellent condition. Pages are intact and not marred by notes or highlighting. The spine remains undamaged.
7.

WorldofBooks


via



United Kingdom

Softcover, ISBN 0007100574
Publisher: Collins Educational, 2000
Used - Very Good. The book has been read, but is in excellent condition. Pages are intact and not marred by notes or highlighting. The spine remains undamaged.
8.

Worldofbooksde


via



United Kingdom

Softcover, ISBN 0007100574
Publisher: Collins Educational, 2000
Used - Very Good, Versandfertig in 1 - 2 Werktagen, The book has been read, but is in excellent condition. Pages are intact and not marred by notes or highlighting. The spine remains undamaged.
9.

Worldofbooksusa


via



United States

Softcover, ISBN 0007100574
Publisher: Collins Educational, 2000
Used - Very Good, Usually ships in 1-2 business days, The book has been read, but is in excellent condition. Pages are intact and not marred by notes or highlighting. The spine remains undamaged.
10.

Mygrandmasgoodies


via



United States

Softcover, ISBN 0007100574
Publisher: Collins Educational, 2000
Used - Very Good, Usually ships in 1-2 business days, Nice Copy - little wear