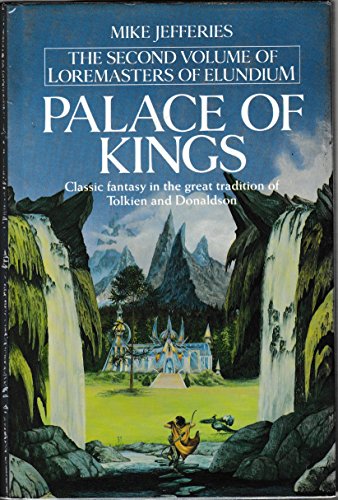 ISBN is
9780002232395 /
0002232391
Publisher:HarperCollins Publishers Ltd, 1987
Edition:Hardcover
Language:English
Prices INCLUDE standard shipping to United States
Shipping prices may be approximate. Please verify cost before checkout.
About the book:
Thane, once King Holbian's humble messenger, has risen to lead the warriors of Underfall to a great victory over the armies of Krulshards. But even as Thane claims his granfather's magical sword to kill the nightmare enemy, Krulshards escapes to the City of Night, where he plans a terrible revenge. Original.
Search under way...
Search complete.
Click on the price to find out more about a book.
1.

Betterworldbooksuk


via



United Kingdom

Hardcover, ISBN 0002232391
Publisher: HarperCollins Publishers Ltd, 1987
Used - Acceptable, Usually ships in 1-2 business days, Ships from the UK. Former Library book. Shows definite wear, and perhaps considerable marking on inside. 100% Money Back Guarantee. Your purchase also supports literacy charities.
2.

Bwbuk Ltd


via



United Kingdom

Hardcover, ISBN 0002232391
Publisher: HarperCollins Publishers Ltd, 1987
Used - Acceptable, Usually ships within 1 - 2 business days, Ships from the UK. Former Library book. Shows definite wear, and perhaps considerable marking on inside. 100% Money Back Guarantee. Your purchase also supports literacy charities.
3.

Betterworldbooksde


via



United Kingdom

Hardcover, ISBN 0002232391
Publisher: HarperCollins Publishers Ltd, 1987
Used - Acceptable, Versandfertig in 1 - 2 Werktagen, Versand aus Schottland, Versandzeit 7-21 Tage. Frueheres Bibliotheksbuch. Starke Abnutzungserscheinungen und warscheinlich erhebliche Markierungen im Text. 100% Money Back Guarantee. Mit Ihrem Kauf unterstützen Sie Alphabetisierungsprogramme..
4.

Betterworldbooksltd


via



United Kingdom

Hardcover, ISBN 0002232391
Publisher: HarperCollins Publishers Ltd, 1987
Used - Acceptable, Usually dispatched within 1-2 business days, Ships from the UK. Former Library book. Shows definite wear, and perhaps considerable marking on inside. 100% Money Back Guarantee. Your purchase also supports literacy charities.
5.

Betterworldbooksfr


via



United Kingdom

Hardcover, ISBN 0002232391
Publisher: HarperCollins Publishers Ltd, 1987
Used - Acceptable, Expédition sous 1 à 2 jours ouvrés, Ships from the UK. Former Library book. Shows definite wear, and perhaps considerable marking on inside. 100% Money Back Guarantee. Your purchase also supports literacy charities.
6.

Curio


via



United Kingdom

Hardcover, ISBN 0002232391
Publisher: HarperCollins Publishers Ltd, 1987
Collectible - Very Good, International shipping, Usually dispatched within 1-2 business days, UK SELLER. Published by Collins, London, 1987. FIRST EDITION / FIRST PRINT. Hardback in light blue boards with gold gilt lettering to spine. Unclipped DJ. 314pp. Slight mark to inside DJ at bottom edge. THE SECOND VOLUME OF LOREMASTERS OF ELUNDIUM. (10/7)
7.

Cold Tonnage Books


via



United Kingdom

Hardcover, ISBN 0002232391
Publisher: Collins: London, 1987
Collins: London. 1987. First edition (& 1st printing).. Hardcover.. Page edges a little browned, else a fine copy in a fine dustjacket. (as new).. The second volume of the fantasy series Loremasters of Elundium, following The Road to Underfall (1986), and followed by Shadowlight (1988). First edition.
8.

COLD TONNAGE BOOKS


via



United Kingdom

Hardcover, ISBN 0002232391
Publisher: Collins: London, 1987
Used. The second volume of the fantasy series Loremasters of Elundium, following The Road to Underfall (1986), and followed by Shadowlight (1988). Page edges a little browned, else a fine copy in a fine dustjacket (as new).; includes dustjacket
9.

Coldtonnagebooks


via



United Kingdom

Hardcover, ISBN 0002232391
Publisher: HarperCollins Publishers Ltd, 1987
Collectible - Like New, Usually dispatched within 1-2 business days, First edition (& 1st printing). 1987. Collins: London. Page edges a little browned, else a fine copy in a fine dustjacket (as new). Hardcover. The second volume of the fantasy series Loremasters of Elundium, following The Road to Underfall (1986), and followed by Shadowlight (1988).
10.

BOOK COLLECTORS GALLERY


via



Australia

Hardcover, ISBN 0002232391
Publisher: Collins, London, 1987
Used. PRICE NOT CLIPPED. (FICTION)